LocalGrid is a tool that helps you see where your business's Google Business Profile ranks for searches done around your business location.
For most local businesses how your Google Business Profile ranks is one of the most important ways to get more business (or lose business if your rank drops).
LocalGrid does a search for your keyword in a grid around your location and shows you where your business ranks and which competitors rank for the keyword.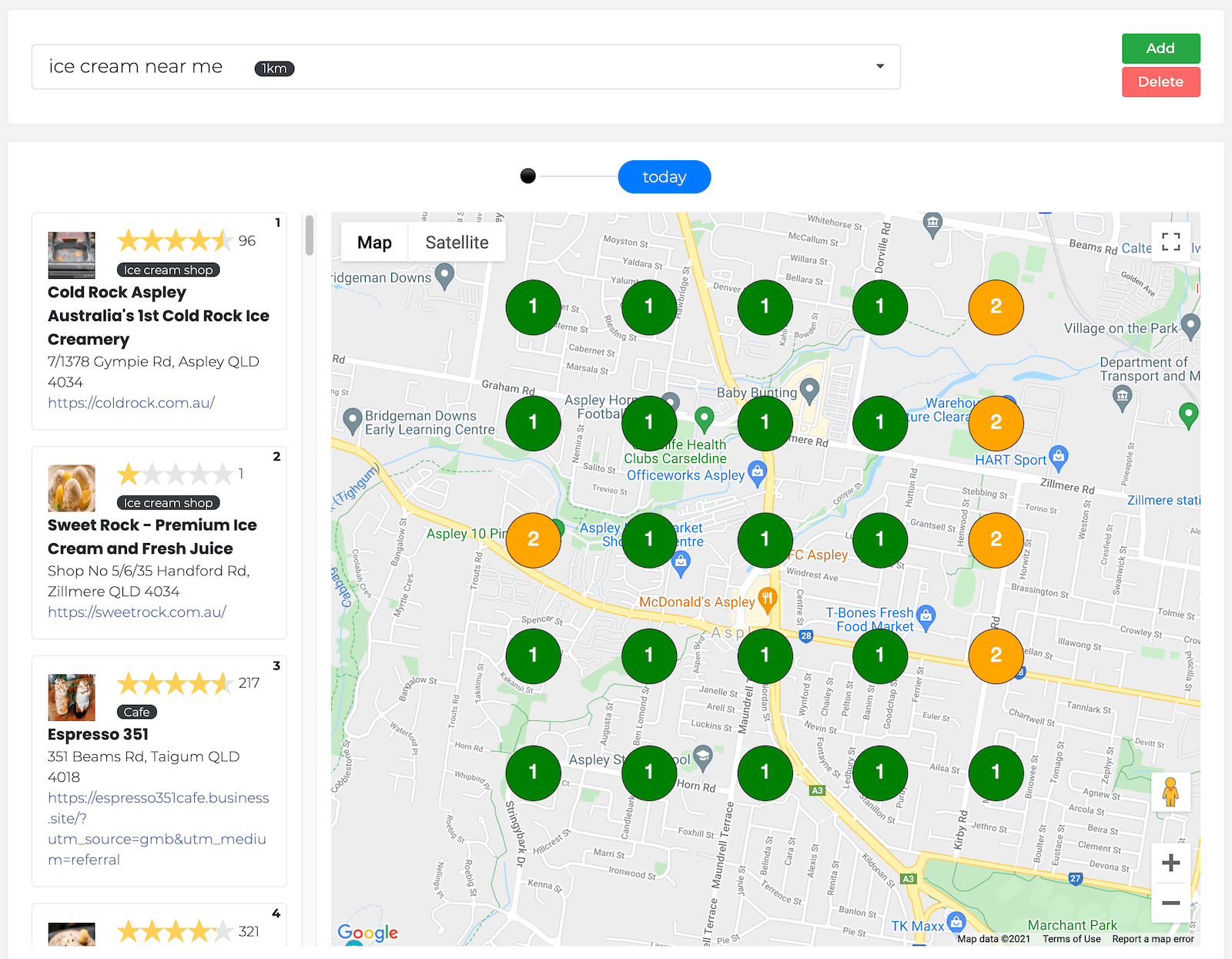 Each grid position shows you where your business ranks for the keyword.
| | |
| --- | --- |
| | If you rank 1 the color will be green. |
| | Rank 2 to 3 is colored yellow. |
| | Rank 4 to 100 is colored red. |
| | If your business does not appear in search results the position will be marked with a dark red X. |
| | If there are no search results for a grid position it is marked with a light grey 0. |
Competitor Ranks
You can click on each grid position to see which competitors rank for each position. Competitors are listed to the left of the map, you can click on each competitor to go to their Google Business Profile.
Timeline
Your LocalGrid keywords will automatically update every week and a new LocalGrid will be created.
When choosing a keyword the latest LocalGrid will be displayed, you can click on previous LocalGrid runs in the timeline above the map to see how your LocalGrid has changed over time.
For each LocalGrid in your timeline an average position is shown so you can quickly see if your LocalGrid is improving over time.
Creating a new LocalGrid keyword
To create a new LocalGrid keyword, you first need to have LocalGrid Credits.
These credits are included with your monthly plan or extra credits can be purchased if you need to create extra keywords.
Go to the LocalGrid page.
Click on the three dot menu at the top and choose Add.
Type your keyword.
Choose how far from your location the new grid should extend. This means the total grid width and height will be 2 times this. So if you choose 5km the grid will be 10km's high and 10km's wide.
Choose the number of grid points. This can be 3x3 up to 15x15. The higher number of grid points you select the more points will be on your LocalGrid. A higher number of grid points should only be used for larger grid sizes. The more grid points you choose the more credits are used for each report
Choose how often you want the LocalGrid to update. The default is weekly but you can choose 2 weeks, monthly or on demand. If you choose On Demand the LocalGrid will get created and you will need to click Update on the Grid whenever you want to update it.
Click Save.
Your LocalGrid will start generating immediately and will take a few minutes to generate your complete LocalGrid. We perform a good search for each point on your LocalGrid and results will begin to update as theses searches complete.
Deleting a LocalGrid keyword
Go to the LocalGrid page.
Click on the three dot menu at the top and choose Delete.
Confirm you want to delete the keyword.
Your LocalGrid keyword will be removed and any LocalGrid reports for the keyword will be deleted.
LocalGrid Credits
LocalGrid's do a lot of google searches to produce one grid. Each point on the grid uses a LocalGrid credit. LocalGrid credits are included in your monthly plan, if you need more credits for additional keywords they can be purchased. Purchased LocalGrid credits do not expire and can be used for any business in your account.
See more about LocalGrid Credits.