If you are managing multiple social media channels one of the things that can be hard to remember is to keep the content flowing .. especially for those services that you may not post to as often.

With myPresences you can manage the Post Age for most of your social media channels on the dashboard using our Post Age widget.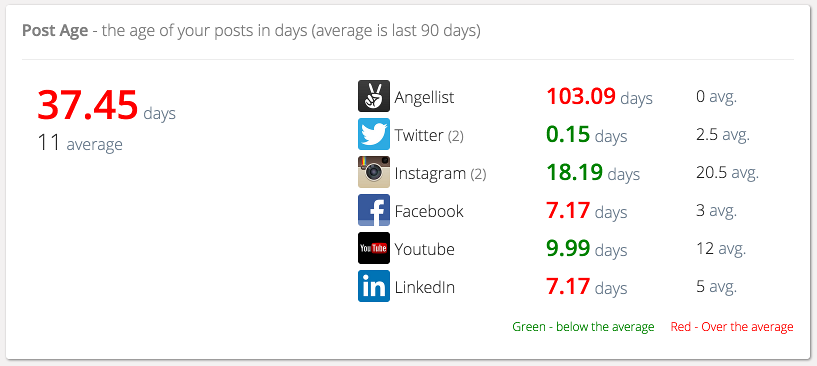 This widget shows you all the social media services and when you last posted to an account on each service as well as the average number of days between posts for each service.

We currently support:
Facebook
Twitter
LinkedIn
Instagram
Youtube
Vimeo
Angellist
We will be adding support for new services so please let us know if there is a service you would like to track.

On the left the widget displays post age for all services, including:
the average last post age in days.
The average post frequency over the last 90 days for all monitored accounts.
For each service the widget displays:
The number of accounts tracked for each service (if more than one the number will appear beside the service name).
The number of days since a post was made to an account on this service.
The average number of days between posts to this service over the last 90 days.
Whenever a value is green this means the value is better than average if it is red it is below the average (with a small margin).

The average is based on "Post Days" so it is the average number of days between when posts are made on the service regardless of how many posts were made on each day. This is better than averaging the time between posts as you might make 100 posts on one day and this will serious reduce the average even if you had not posted in the 90 days prior.

The average will approach 1 for businesses that post every day on a service.