With myPresences you can post content to multiple social channels, in addition to managing everything else about your business online.
You can post content to:
Facebook
Twitter
Instagram
LinkedIn
Google My Business
Pinterest. Coming Soon.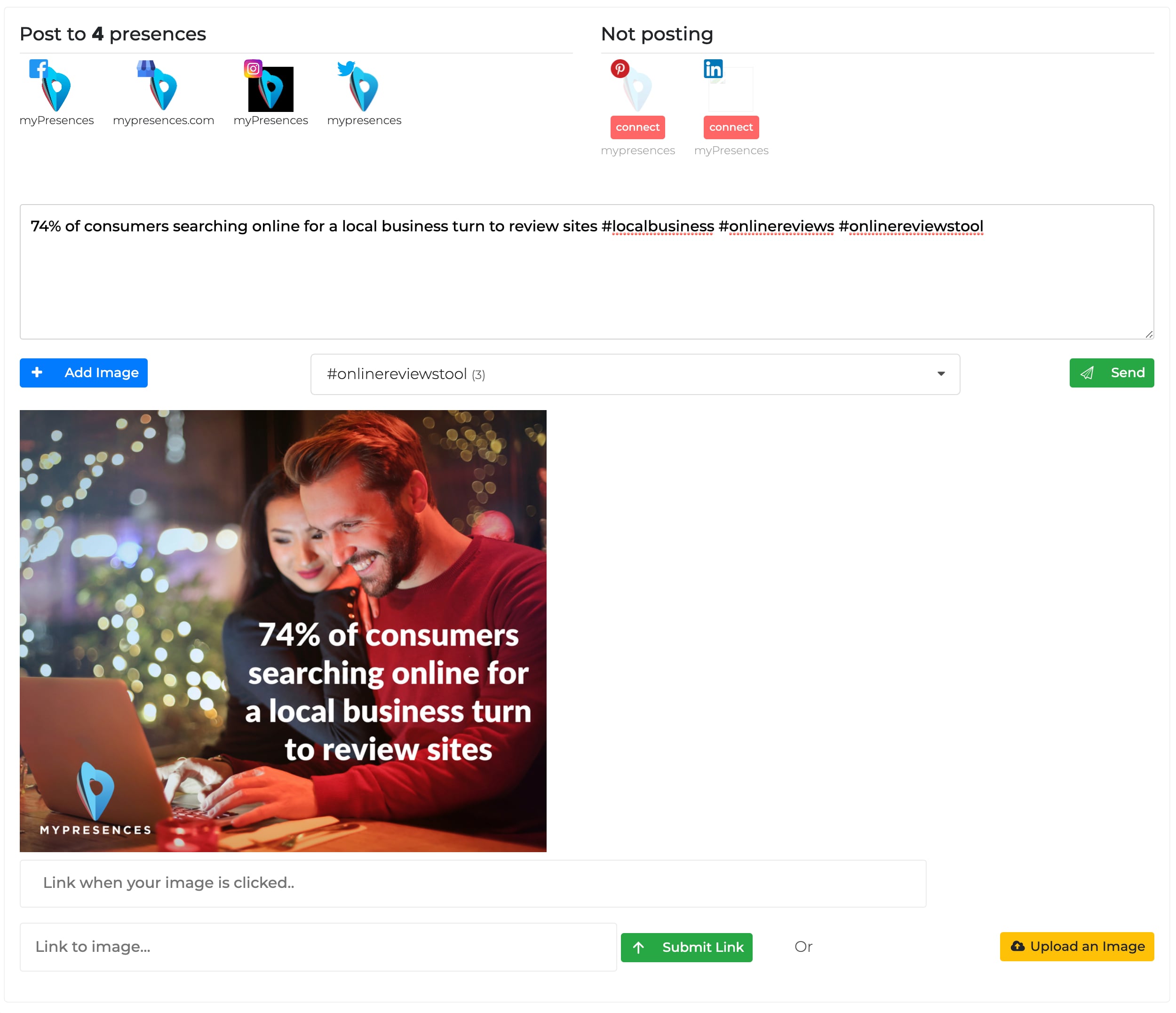 We also collate all of your social channels into one place so you have access to all the content you have posted across your accounts.
Content from your social channels and the ability to post new content is available on the Social page on the left navigation bar.
Note:
Before we can manage your social channels and post content you must Connect your social profiles.
Posting to social channels
Posting to social channels is quick and easy.
You can:
Post to multiple channels at once
Upload images to include in your posts
Link to images to include in your posts
Quickly add relevant hashtags from your hashtags collection.
To create a social media post.
Go to the Social page on the left navigation bar.
Select the social profiles you want to post to on the left. The page will show all of your social profiles that can be posted to on the right. Click on the ones you want to post to to move them to the posting column on the left.
Type the content you will be posting in the content area. If your content length goes above the length allowed on a selected service you will be warned that your content is too long. In this case deselect the service causing the restriction and post longer content there or reduce the length of your content.
If you want to add hashtags (and we encourage you do where appropriate) you can either type the hashtag or select it from the hashtag dropdown.
Click on Add Image to add an image if your want one in your post.
Click Send to post your content to the selected social profiles.
A confirmation message will appear telling you the posts were successful.
Your post will immediately appear on your social profiles.
The post will not however appear immediately in your post list in myPresences. It will appear the next time we refresh each social profile.