Hashtags are tags (commonly starting with a #) that are added to content to associate the content with a topic.
They are great for increasing the reach of your content on social media because people monitor the hashtags that are important to them and they are more likely to see your posts.
Even better, by using hashtags you are ensuring people interested in what you are saying will see your posts!
You should use hashtags every chance you get.
myPresences includes the ability to manage your hashtags and research the hashtags that are important to your business and then use them quickly and easily in your posts.
Your hashtags are available on the Hashtags page under the Tools menu on the navigation bar.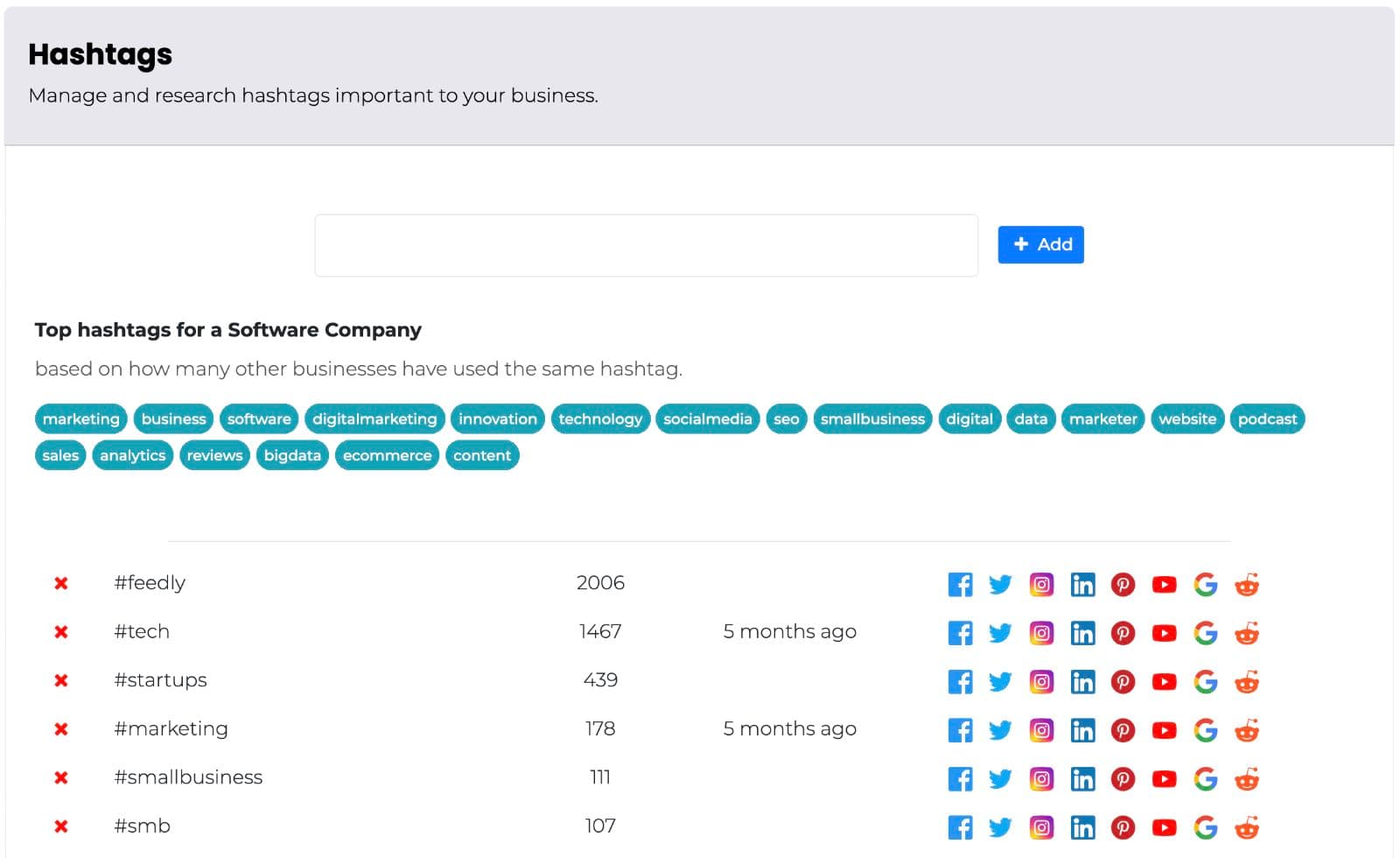 Note:
for myPresences to be able to manage and collate the hashtags you are using you must first connect your social media accounts. Without doing this we cannot access your posts.
Managing Hashtags
Do you know the hashtags that are important to your business?
myPresences collates all of the hashtags you have used in your social posts into one place so that you can see:
Which hashtags you have used
How many times you have used them
How long it has been since you used them
It is a great strategy to keep a presence on the most important hashtags for your business. You want to included when someone searches for the hashtags important to you. If you don't use that hashtag often enough your content will not be shown to these people.
So keep an eye on how long it has been since you have used your most important hashtags.
The hashtag list will be sorted with the most used hashtags at the top.
Adding Hashtags
If you have not used a hashtag before it will not be in the list.
But, you can add any hashtags at the top of the page.
This has 2 benefits:
You have recorded that this hashtag is important to your business.
It will be available to be added to social posts.
Researching Hashtags
Once you are managing your hashtags and they are listed in the Hashtags page you can then quickly and easily research their use on the top social channels.
Click on the social icon beside each hashtag to search for the hashtag on each service.
You can search on:
Facebook
Twitter
Instagram
LinkedIn
Pinterest
Youtube
Google Search
Reddit
This is a great way to:
See how your hashtags are being used by others
Get inspiration for your own posts using the hashtag
See what other hashtags others are using with the hashtag. This is a great way to learn about new hashtags you should use.
Connect with others using the same hashtags
We also include top hashtags based on your peers at the top of the page. These are hashtags that other businesses like you are using. If you are not using these hashtags then you may want to start using some of them.
Using hashtags
Once you have a good understanding of the hashtags that are important to your business you should use them regularly in your posts.
You should also think about hashtag combinations and get the most from your content by targeting multiple hashtags.
Your hashtags can be searched for and pasted directly into content when posting from myPresences.