Once you have created an account the first and only thing you can do is Add your first business to myPresences.
You will be taken to a screen welcoming you to myPresences and asking you to enter some information about your business.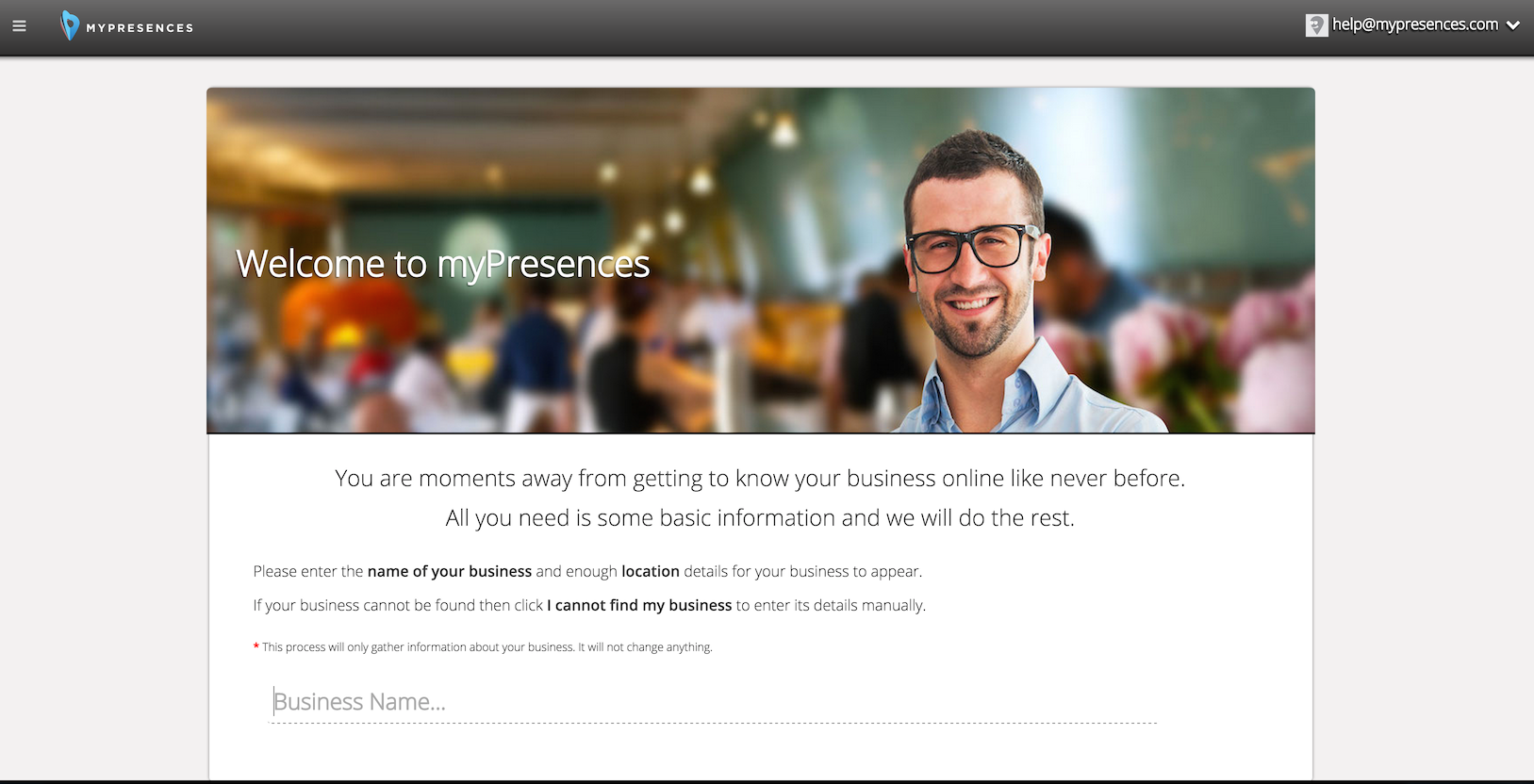 Note: adding your business here will not change anything online! It will only provide the information we need to be able to monitor and report on your Presence and Reputation online.
Start typing your business name and it should appear in the drop down box allowing you to select your business. We use Google Maps to find your business so if your business is listed there we should be ale to identify your business.
If your business does not appear:
Try different variations on your Business Name (eg. If you are a restaurant you may have the word restaurant after your name).
Include street names or your city.
You may not be listed on Google Maps.
If you cannot find your business after trying a few variations or you believe you are not listed on Google Maps click the "I cannot find my business" button to manually enter your business's details.
Confirm your Business Details
If you can find your business in the drop-down select it and you will be taken to a page where you can confirm your business details and make changes and additions.
It is very important that you ensure this information is as complete and accurate as possible as we will use this information to search for your business online and improved accuracy and completeness will help us automatically find more about your business.

On this page you should:
Check the business name and ensure it is the most appropriate for your business.
Check the Address, Phone Number and Web Site URL are accurate.
Move the Map PIN to the exact location of your business if it is not correct.
Select the best set of Business Types from the business type selection drop-down. You can click in the empty space to begin typing or can click for a selection list. Please choose as many as you need to describe your business but do not choose any more than you need as we may suggest services that are not relevant to your business.
Once you are satisfied that your information is accurate and compete click the Add me button. This will begin the Discovery Process where we attempt to find as much about your business as we can automatically.
You can also research by clicking the Clear button beside the search term and re-entering your information or you can decide to enter your business data manually by clicking the I cannot find my business button.
Add your Business Details Manually
If you need to enter your business details manually you can click the buttons indicating you could not find your business.
You will be taken to a page where you can enter all the initial information we need to find your business's presences online.
Please try to fill each field and make the data as accurate and complete as possible. Setting your map position and business types correctly will also help us give you better results.
It is extremely important that we are able to identify your Country and Business Types so that we can suggest the most appropriate services on which to list your business.
Once you are satisfied with the information you have entered please click the Find Me Now button to begin the Discovery Process which will attempt to find as much as we can about your business automatically.